Sun Tap Water Systems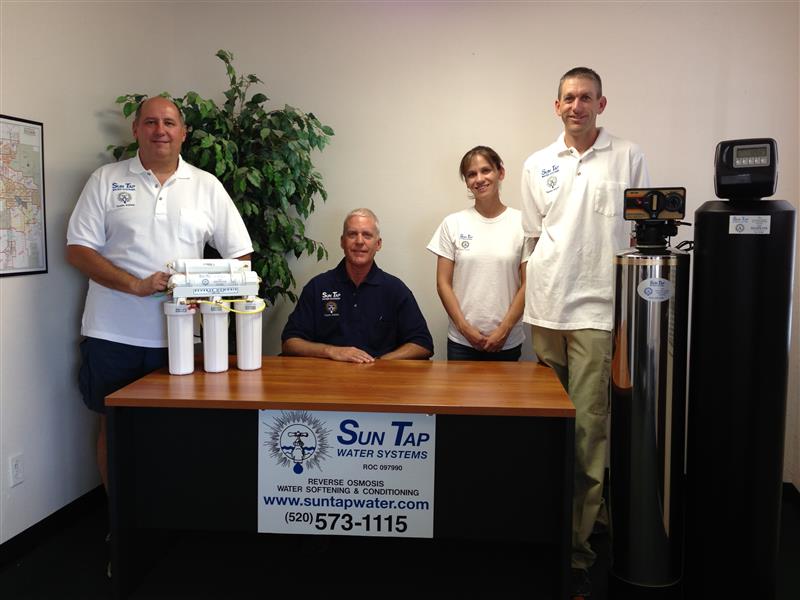 JC Van Vessem, Rick Bergin, Karen Bergin, David Bergin
About Us
What sets us apart from others? You guessed it! The service we provide to our customers with water conditioning and reverse osmosis through professional installation and maintenance programs ensure your initial and continued customer satisfaction with Sun Tap Water Systems.
How many times have you set up an appointment with someone and either they are late or just do not show up?
We understand how frustrating that can be, especially when you have other things to do. We strive to be where we say we will be and be there on time, every time. There are circumstances that sometimes prevent this from happening but when those few times occur we call "before" your scheduled appointment to let you know we are going to be late. You will have the option to either reschedule or know when you can expect us.
We Value you as our Customer!
In order to help keep your systems operating at peak performance we offer a yearly maintenance on your reverse osmosis and soft water unit.
Because we understand how busy everyone is, we send out a reminder card when your yearly maintenance is due. No need for you to keep a schedule handy or mark it on your calendar.
We check your water levels, inspect your systems and change out your filters helping to keep your equipment running as it should.
We also offer salt or potassium delivery to your door! No need to go to the store, wondering if you have the right product for your unit. Just call us when you are running low or set up an automatic delivery schedule and we will drop off as many bags as you wish!
---
Business Hours
Monday - Friday 9:00 A.M. - 4:00 P.M.
Closed Saturday and Sunday
Mailing Address: P.O. Box 18697, Tucson, AZ 85731
Office Location (By Appointment only): 245 S. Plumer Ave. Ste.21, Tucson, AZ 85719
Phone: (520) 573-1115

Email: information@suntapwater.com
Lic# ROC305182
Emergency Service
(520) 548-2557