Sun Tap Water Systems
Customer Reviews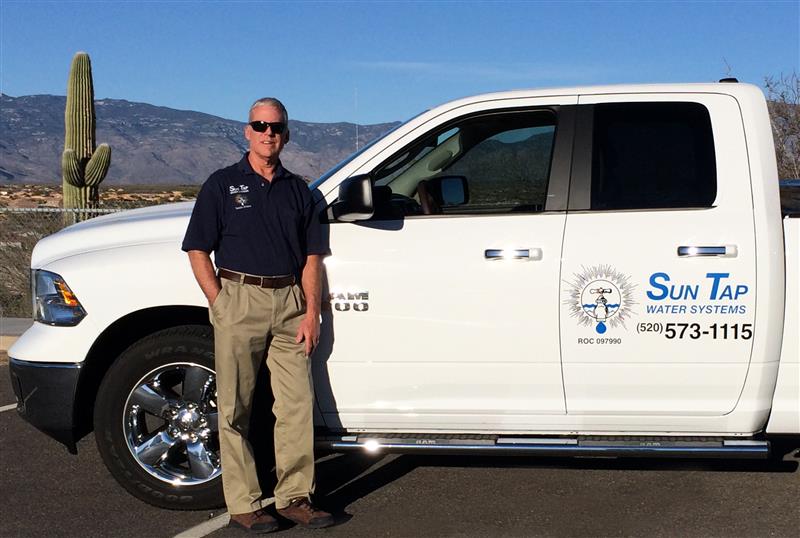 Below please read some of the customer comments about our water conditioning and reverse osmosis systems that we have received and have been given permission to post here for your review. Read what others have said about our installations, service and commitment to you, our customer.
Our first review from Rosemary O'Donnell is from 1986 and represents our commitment to deliver exceptional water conditioning products backed by excellent customer service. For over 25 years we have enjoyed serving our customers with the same commitment that each of our reviewers express in their reviews below.
---
I wanted to send you an email to please bill us for coming out to my place yesterday. It wasn't even your problem and you still fixed it. Gees, I have never seen anyone in this town do that before in the five years I have been in Arizona. Thank you!
You guys continue to show great character again and again and that is an important core value to me as a human being and that is how I like to treat people as well. You just don't find customer service like that around this area, at least not from my experience. Great customer service should be the norm but its not anymore so when you find a company/people who provide it, well, for me, I am amazed and blown away by it.
Again, for my own conscience and the right and proper thing to do, please bill me and we will get it paid right away. Sorry for bugging you guys again about an issue that was not yours.
- John Pearson

---
I read all the reviews on your web site, and I can honestly say most people under rated your service. Ricks commitment to customer satisfaction goes beyond the norm.
Not only was the water softener and RO installed the next dayafter I talked to them, I asked Rick if he could give me an estimate on hooking my ice maker to the RO system.
While installing the RO he found a small plastic tube that after tracking it found that it was the water supply to the ice maker.
Rick then proceeded to replace the line with a line that was up to code and connected it to the ice maker. This he did after crawling under the house. (This was done as a service at no charge).
All products work above expectations and I look forward to talking to Rick next year when they come out to service and change the filters.
One last bit of service he gave was to provide me the name of a company to do some more involved, needed plumbing (Joes Platinum Plumbing); this company provided the same excellent service that Rick provided.
- Darrell Mack

---
It is with great pleasure I write this letter to say thank you for introducing me to Sun Taps "Clean Water System." I feel my Ultra II System is the best investment I could have made for the hardness of the water in Tucson as well as the high level of impurities. After listening to your most informative presentation I talked with my physician and was told that a system like yours would be a wise investment due to the poor quality of the water in this area. Needless to say I decided to have your system installed and to have the RO installed for my drinking water. I could not believe how in only a weeks time my hair and skin had improved.
I had found after my arrival here that my skin had become dry and flakey and my hair had began to take on the texture of straw. That has now changed and my skin and hair has returned to its normal healthy state. My Ultra II with RO has met all my expectations. My water not only feels better, my clothing look cleaner, and with the RO my water tastes clean and pure. I am more than pleased with your service of hooking up my icemaker to my RO so that I would be able to eliminate the sodium content from my drinking water and not add it back in by using ice that had not been treated.
It is also a pleasure to let you know what a fine job your installers did. They were most courteous and pleasant. They were here at the time they scheduled and were quickly finished. They left my home neat and the only visible sign of there presence here was my new system tucked neatly away in my garage and under my kitchen sink. It is a real pleasure when you see installers take such pride in their work and who leave the property they were working on unharmed and clean.
I would also like to thank you Rick for your continued concern and helpfulness. It isn't often that you see the salesman again after he has made the sale. It is refreshing to have a salesman who not only sells you a product but returns time and again to make certain his customers are happy and that all is well. It is good to know that should I have any questions or problems you can be reached at any time. There should be more salesmen like you. Your sincerity and honesty have been just another reason why I would not hesitate to recommend Sun Tap to my friends and family.

It has been a real pleasure doing business with you and I would like you to feel free to use me as a reference for Sun Tap.
- Rosemary O'Donnell
---
I would like to take this opportunity to submit my strongest recommendation for Sun Tap Water Systems. Our family was recently looking into a water filtration system for our home, and solicited bids from a number of companies. Sun Tap, recommended to me by my parents (who have had a Sun Tap system for over a decade now), was the only company that worked with my husband and I to explain their product to our satisfaction, answer our myriad of questions, and assess the particular installation plans for our home. Sun Tap's competitors worked hard to "sell us" their system, but did not have the expertise necessary to convey the comprehensive solution that Sun Tap offered...plus, their systems were double, triple the price!
Sun Tap personnel have always been very courteous, prompt, and efficient in dealing with us. The entire installation process took no more than a few hours, was planned around our schedule, and was completed by Sun Tap employees...not an outsourced contractor who had never been to our home and was unfamiliar with us and our particular situation.
Sun Tap followed up our installation with a personal visit, to ensure that the quality of their product (and our water!) matched their standards. Thanks to Sun Tap, we are enjoying a superior water product with a maintenance free system AND we know we have access to local, knowledgeable experts in the event that questions arise.
- Miranda Soeder
---
SunTap Water systems have been a basic staple of my household since the day this house was built in 1998.While the house was under construction I visited the local Home Show at the Convention Center where I met Rick Bergin, saw his product and asked him to install both a water softener system and a reverse osmosis system in my new home.
When the house was finished I had only one outside water tap in the rear yard on the west side of the house. Rick came to install my softener as soon as I had possession of the house and when he learned that the house did not have a water-loop to allow me to use fresh water for watering plants he engineered another line of fresh water down the east wall of the house and put a hose bib at the end of the line at the corner of the house. This was done simply because his client had an unforeseen problem that he could remedy and he went out of his way to assure customer satisfaction.
The house plans also called for a line from the sink-island to the wall behind the refrigerator in anticipation of running reverse osmosis water to the refrigerator. However, the contractors overlooked that detail when the house was being built. Again Rick solved the problem with a special filter for the refrigerator water which we change once a year.
Rick's willingness to go out of his way in customer satisfaction has been one of the hallmarks of the Suntap Water service. The two systems that Rick installed have worked flawlessly over the years and it is always a pleasure to have Rick and his son out for the annual service of the systems. They are prompt, efficient and courteous. I truly prize my long term relationship with Suntap and have come to rely on them for all of my in-home water needs.
- Crane Day
---
I've become a water snob!!
Twelve years ago Sun Tap installed a water softener and reverse osmosis in our new home. I knew I wanted a water softener, but I wasn't convinced about the RO. I wasn't sure that we needed the RO. We bought it to avoid drinking soft water since our home didn't come with a soft water loop. Within a month I would drink nothing but our RO water.
For years I bought bottled water, poured it down my sink and refilled the empty bottle with my RO water. Everywhere I go, including vacations, I take my own water. Last year we moved again. The day we moved I called Sun Tap to have a water softener and RO put in our house. Rick knew how much I loved my RO water and installed the new system the next day. We did not live in our new home for more than 24 hours before our new Sun Tap water system was installed.
Rick and his staff have done an excellent job and their service is outstanding. Few businesses today provide the personalized service Rick and his staff provide. Sun Tap was recommend to us by a friend and we have referred many friends. I even recommend Sun Tap to my parents.
- Sandra Smith
---
We moved to Tucson 13 years ago when I was still in the military. We purchased a new home here and I had heard about the problems with the hardness of the water. Although I didn't necessarily complain about the taste of the drinking water or how it felt when I took a shower I was concerned what the prolonged use of hard water would have on the look of my shower walls and other items that the water would have contact with. I also had concerns for the health of my pipes and wanted to ensure that the look and efficiency of anything connected with my water would be preserved.
We contacted Sun Tap and several other companies to determine whether or not soft water would or should even be a consideration. We decided to install soft water based upon our inquires and decided that Sun Tap should be the company to do the install.
We decided on Sun Tap for a number of reasons but we were most impressed with his concern for what our property would look like after the install. He suggested that we put the tank in the garage to keep it out of sight (something that our CCR's required) and further convinced us to install an RO unit after we tasted a sample of the water. He appeared honest and offered us other customers of his to contact for a reference.
Over the years the service has been outstanding. I don't even have to remember to have the service done because I receive a card in the mail when the yearly service is due. Sun Tap has been extremely responsive to our needs. They deliver salt within a few days of a request from me and are quick to respond if I have any questions.
Our shower walls look the same as they did when we entered our new home 13 years ago. There is no white chalky residue on our walls like I have seen in homes without soft water. We take water from our RO whenever we go on a trip instead of buying bottled water simply because we think our water tastes better than any bottled water we have tried.
If you are looking for a company that is dependable, honest and committed to their customers look no farther than Sun Tap Water Systems.
- Bob and Tonya Messenger
---
Business Hours
Monday - Friday 9:00 A.M. - 4:00 P.M.
Closed Saturday and Sunday
Mailing Address: P.O. Box 18697, Tucson, AZ 85731
Office Location: 245 S. Plumer Ave. Ste.21, Tucson, AZ 85719
Office Location (By Appointment only): 245 S. Plumer Ave. Ste.21, Tucson, AZ 85719
Phone: (520) 573-1115

Email: information@suntapwater.com
Lic# ROC305182
Emergency Service
(520) 548-2557